Live video & audio


consultation service for your

business

and

website

The AI onboarded CRM with video consultation and streaming module at the front end and huge data analytics module at the back end.
Your customers can also call from their mobile devices.
Fast and secure
Functional
Widget
Sales Forces
Administrative Portal
Expert Workspace
Streaming Platform
Online to Offline
Ladies consulting
Live ad-hoc connection with your consultants via video/audio calls or chat.
Fast and secure connection, no personal data collected. Face-to-face communication with your clients and customization widget according to brand identity by 20 parameters.
EFON provides educated outsourcing personnel for our clients dependent upon your needs.
Recruit, hire & manage consultants, track quality control of consultations. We help to reduce personnel costs while maintaining high quality sales.
Your business will have access to an admin portal where you can track your experts' work, review statistics outlining full raw data. We have reflected this in our easy-to-use dashboards.
Using our internal expert workspace, experts can access clients' tickets and provide outstanding consulting.
Your experts will improve the customer journey process, boost conversion rates, and take calls with an ad hoc connection lasting up to two seconds. Additionally, they can use FONT to add items to customers' baskets and divert calls to a different product expert.
By using our platform, you can increase website traffic and advertise products while streaming.
Interactive product cards show up on screen while you stream, allowing viewers to add them to their product carts.
We can add QR codes to your physical storefronts so that clients can use our widget to connect with online experts by scanning the code.
Excellent advice available in-store around-the-clock. There's no need to wait—your expert is always available to offer consultation. Online experts can save you up to 40% over traditional ones.
EFON provides secure connection woman-to-woman calls and dedicated ladies consulting. Just add ladies consulting button to your website.
EFON

provides best experience
for everyone
FOR YOUR BUSINESS
Additional marketing feature - the widget can be modified for each product card with special promotional materials (video or pictures) and this can be placed on different web pages and product cards. Data analytics system with our smart dashboards you can see all the expert and customer statistics
FOR YOUR EXPERTS
Opportunity to show products in real time to customers by video calls Don't miss sales, your customers will be will be sent to the right expert who understands the product with our smart routing feature. Checkout products for your customers, put products in their brackets and increase sales
FOR YOUR CUSTOMERS
New high level of customer experience service - no need to wait for consulting and switch between devices or apps Purchase online, and with our widget, customers will enjoy a comparable shopping experience to what they would find in a offline store Well educated experts with detailed knowledge of various product characteristics
EFON for
Luxury

Goods / Services
YOUR CUSTOMERS WILL NOW BE VERY SATISFIED WITH ONLINE ORDERS
Online to Offline scenario
Ordering luxury goods is always about service, very often when customers want to order smth online, they ask if the product good enough in real life 
With EFON you don't need to worry about returns.  Your customers call via video an expert in your showroom that is located in a real shop or stock and see how the product looks in real time. Experts also help to choose and advise. 
We set up a showroom for your business
We educate your salespersons how to make video calls with high quality results
EFON provides soft for video calls and streaming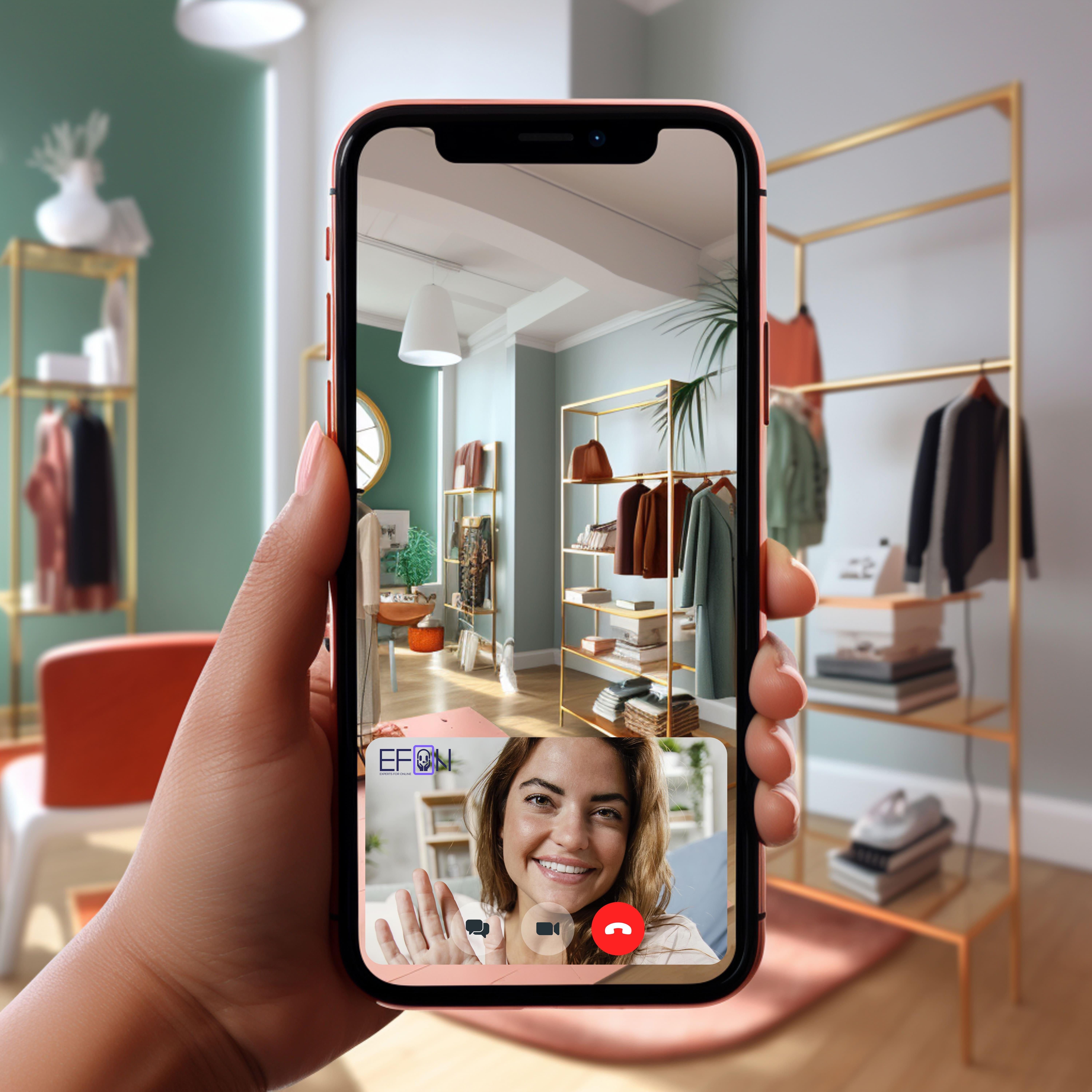 Plans
START
Starting from
Widget

Administrative portal

Experts workspace

All scenarios
Basic
Starting from
Widget

Sales forces

1 expert shared with other company (50% of the time work adjustment)

Administrative portal

Experts workspace

All scenarios
ADVANCED
Starting from
Widget

Expert full capacity

Administrative portal

Experts workspace

All scenarios
Why?
Our clients after setting up EFON widget increase their sales by up to 35%
You can promote your products with our special online streaming platform that you may use for any of online events.
We hire and educate professional sales managers for every product card
Ad-hoc connection between your customers and experts without collecting personal data
2 seconds
connection time
Our connection between customers and experts takes less than 2 seconds
You can easily integrate EFON as an additional feature to any CRM system you may currently use via API integration
How to get
started
Choose your rate
Our manager will get in touch with you, offer a demonstration and provide access to a personal account area
Easy to install
Faollow the simple instructions and advice from our manager to install the widget on your website
Quick set-up
Just a few more simple instructions to follow, and the widget is tailored to your business
Connect your expert
All you need to do is choose your expert or use ours and get going